Buying an outdoor shed may not be as exciting as buying a Corvette, but there are things you can do to make your storage shed look a little bit more "classy". While our sheds already come primed, you can choose to paint your storage shed for that extra special touch. Below, are some of our shed painting ideas and tips.
---
Tips for Painting a Shed
Before you put your shed painting ideas into action, there are a few things you need to consider.
Make Sure your Shed is Clean:
Obviously, if the shed walls are dirty, the end result will be undesirable. In addition, the paint will adhere better to a clean shed. You can use a brush, rags or a broom to sweep off debris off the shed.
What is the Best Type of Paint to Use on Storage Sheds?
The best type of paint to use on sheds is a premium quality, 100% acrylic latex paint, such as Sherwin Williams A-100 exterior paint. We also recommend using a paint gun because it spreads the paint evenly over the shed better than a brush can. Before you begin painting, caulk along the seams of the shed to prevent any excess moisture entering the storage shed.
Choose the Right Paint Brush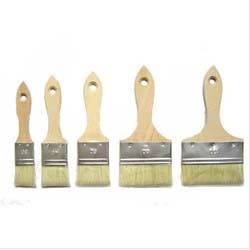 If you plan on using a brush, make sure it is a high-quality paint brush. Cheap paint brushes will leave streaks and lose bristles as you paint. Having several different sizes of paint brushes will come in handy for tight and hard to reach areas. To avoid unnecessary runs, drips, and sags, apply the paint in thinner coats.  Most sheds require two coats, but others may only require one coat of paint.
The more patient you are, the better the paint job will look! Depending on the shed you are working on, you can use a paint roller to speed up the painting process. Finally, your brush strokes should always be applied in the same direction.
Tape off Parts that you Do Not Want To Paint
Remember to tape off parts such as hinges, locks, trim and windows to avoid any paint splatter. Use blue tape, or newspaper to do this. Blue tape usually will not take off the existing paint when you remove it from the surface.
---
Shed Painting Ideas to Get You Started
When coming up with paint color ideas for your shed, try to match the color of your home. Most of our customers follow that color matching principle, however, there is no harm in thinking outside of the box. In fact, we encourage our customers to let their creative minds design an eye-catching shed.